DECEMBER 1st – 31st – all month long!!
DOT'S DINER HOLIDAY RAFFLE, ALL LOCATIONS
Win a giant, stuffed Coca Cola Polar Bear. They're too cute! Buy tickets at a Dot's location near you.
HOLIDAY GIFT WRAPPING DATES AT BARNES & NOBLE, HARVEY (WESTBANK)
Get in the holiday spirit and help animals in need! Volunteer gift wrappers needed (all supplies
provided) during various shifts (Saturdays Noon-4pm / Fridays 4-7pm and Christmas week.) Contact Julie Holman to schedule at Fauxpau62@aol.com or 602.741.0654.
TUESDAY DECEMBER 6th
DINE OUT FOR ANIMALS AT LOUISIANA PIZZA KITCHEN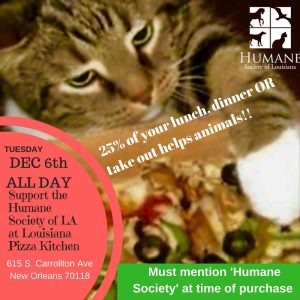 615 S. Carrollton Avenue, New Orleans, LA 70118
All day – 11am to 9:30pm
When you mention to your server, Humane Society of Louisiana, during your DINE IN or TAKE OUT order, we'll get 25% of the bill!
SUNDAY DECEMBER 11th
JAZZ BRUNCH AND HOLIDAY CELEBRATION
Hosted by Bayou Vegan Cafe – Details TBA
Join fellow animal lovers for cruelty-free plant-based food, tunes by local jazz musician, Stuart McNair, old and new friends, and warm hugs for the holidays! Percentage of proceeds benefits the Humane Society of LA.
MONDAY DECEMBER 12th
CHIPOTLE FUNDRAISER, 5 – 9PM / We receive 50% of proceeds with flier!
Elmwood Shopping Center, 1208 S. Clearview Parkway, Harahan, LA 70123
Print out a flier or just show on your phone!!
PLEASE HELP LOUISIANA'S ABUSED AND HOMELESS ANIMALS WITH A HOLIDAY DONATION!
---